April 1st, 1976 - December 31st, 2017
We have now officially closed Gothic Design as a business at the end of December, 2017 after being in business for forty-one years.We started Gothic Design on April 1st 1976 as a textile printing studio located in an old warehouse in downtown Toronto, Canada. We moved to our current home, an old schoolhouse (built in 1908) in Sparta Ontario in 1980. We will maintain our screen printing studio and our offset press operation as an artist's studio in our current location. We may well contimue to make new kite designs for our own pleasure, but will not be offering them for sale commercially any more. We wish to thank all of our past customers and friends in the kite world for all of their support over the years.
Please have a look at the rest of our site, from the choices below.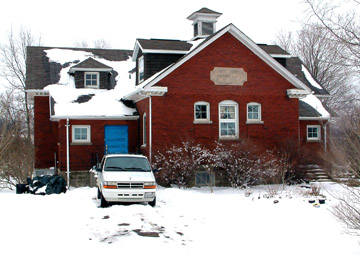 The home of Gothic Design,
Sparta, Ontario, Canada,
March, 2004.
This site last updated - May 2, 2019